March 29, 2022
Magno International, LP (Magno), a minority-owned global supply chain solutions provider, announced today that it was the proud recipient of Eaton Corporation's (Eaton) 2020 "Premier Supplier Award". Eaton's Premier Supplier Award is presented to the transportation provider that delivers exceptional service for critical "line-down" shipments.   
"I am so proud of our team.  Winning this prestigious award demonstrates that a minority-owned small business can deliver exceptional service in a critical supply chain need area (like plant shutdowns) for a global category killer like Eaton Corporation," said Jesus Lovo, Magno Managing Director and EVP, Operations.
"Furthermore, given the competitive arena, it means that we can hold our own against much bigger supply chain providers when given an opportunity."
Annually, Eaton hosts its many global supply chain partners in its Global SCM Supplier Conference. After sharing the company's results, strategic direction, and future needs, the Eaton leadership team recognizes its partners at various levels.  Premier is the highest level of recognition awarded to providers that deliver exceptional service in critical supply chain need areas for Eaton.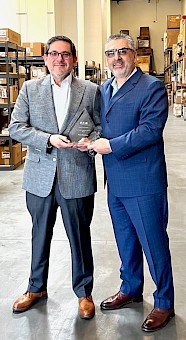 At the onset of the COVID pandemic, Magno's time-definite services were able to execute at the highest levels when capacity was constricted, and options were limited.  Magno helped Eaton's Expeditor Echo Bid Board to deliver time-sensitive shipments and minimize the cost of time lost on plant shutdowns.  
When asked about the award, Chris Monica,  Vice-Chair of Magno commented: "The global impact on supply chains in the past 18 months has been colossal and there's really no effective way to describe the ripple effect this has had on global organizations.  Eaton entrusted Magno to be part of their solution set to manage the unpredictability of the market.  Given this charter, we set into motion 24-hour support to both clearly understand requirements and execute services that helped Eaton maintain their commitments to its clients. We are honored and humbled by their recognition for our performance and all the credit goes to our dedicated employees who helped made this happen."  
About Magno International
Magno International is a world-class, minority-owned transportation and supply solutions provider.  We offer a variety of integrated transportation and logistics services including local, national, and global freight forwarding, customs brokerage and compliance consulting, full truckload, and time-definite LTL.  We also offer value-added logistics solutions in warehousing, order management, fulfillment, and returns management.  We provide highly personalized service and a flat organizational structure that allows us to deliver flexible and quick-to-market customized solutions. More than anything, we are committed to delivering the best, most efficient solution at the lowest delivered cost.

About Eaton Corporation
Eaton is a power management company made up of approximately 85,000 employees, doing business in more than 175 countries. Their energy-efficient products and services help their customers effectively manage electrical, hydraulic, and mechanical power more reliably, efficiently, safely and sustainably. By giving people tools to use power more efficiently. Helping companies do business more sustainably. And by encouraging each and every employee at Eaton to think differently about their business, their communities—and the positive impact we can have on the world.
Media Contact:
Magno International
LeRoy Hughes
EVP, Sales & Marketing
Media Contact:
Eaton Corporation
Karmell Thomas
Director, Supplier Diversity